Event Details and Background Information
To celebrate the inauguration ceremony and the establishment of the captioned chapters in China, it will be our honor to invite the Chief Executive of the HKSAR, Mr C.Y. Leung to be our Officiating Guest for our dinner ceremony on October 20 this year. The world Renowned International Financier - Mr. Jim Rogers, will also join us as the keynote guest. Jim Rogers is a world famous commodity investor and was the co-founder of the Quantum Fund and creator of the Rogers International Commodities Index (RICI).
The officers from the HKSAR, China officers stationed in Hong Kong, representatives of AICFC branch offices (namely Nanjing, Shenzhen, Fuzhou, Foshan, Macau, Taipei, Kaohsiung, Chongqing, Chengdu, Haikou, Xiamen and Tianjin) will be invited to the ceremony; professionals and awardees from China, Hong Kong, Taiwan, Macau will also join to celebrate the event. An award presentation will take place to honor the top executives and outstanding companies of 2015/16.
Media coverage includes local and international prestigious newspaper, magazines as well we online reporting. Press release and event reporters will be selected mainly from Hong Kong, Macau, Taiwan, Greater China and international medias.
**AICFC Dinner and Awards Ceremony
Date: 20th October, 2016 (Thursday)
Time: 6:00pm – Cocktail / 7:00pm – Ceremony and Dinner
Venue: JW Marriott Hotel (Admiralty, Hong Kong)
**The event is limited to our AICFC members and by Invitation only.
Should you have any queries, please contact info@aicfc.org or enquiry at (852) 2581-3880.
Snapshots for 27 November 2015 Ceremony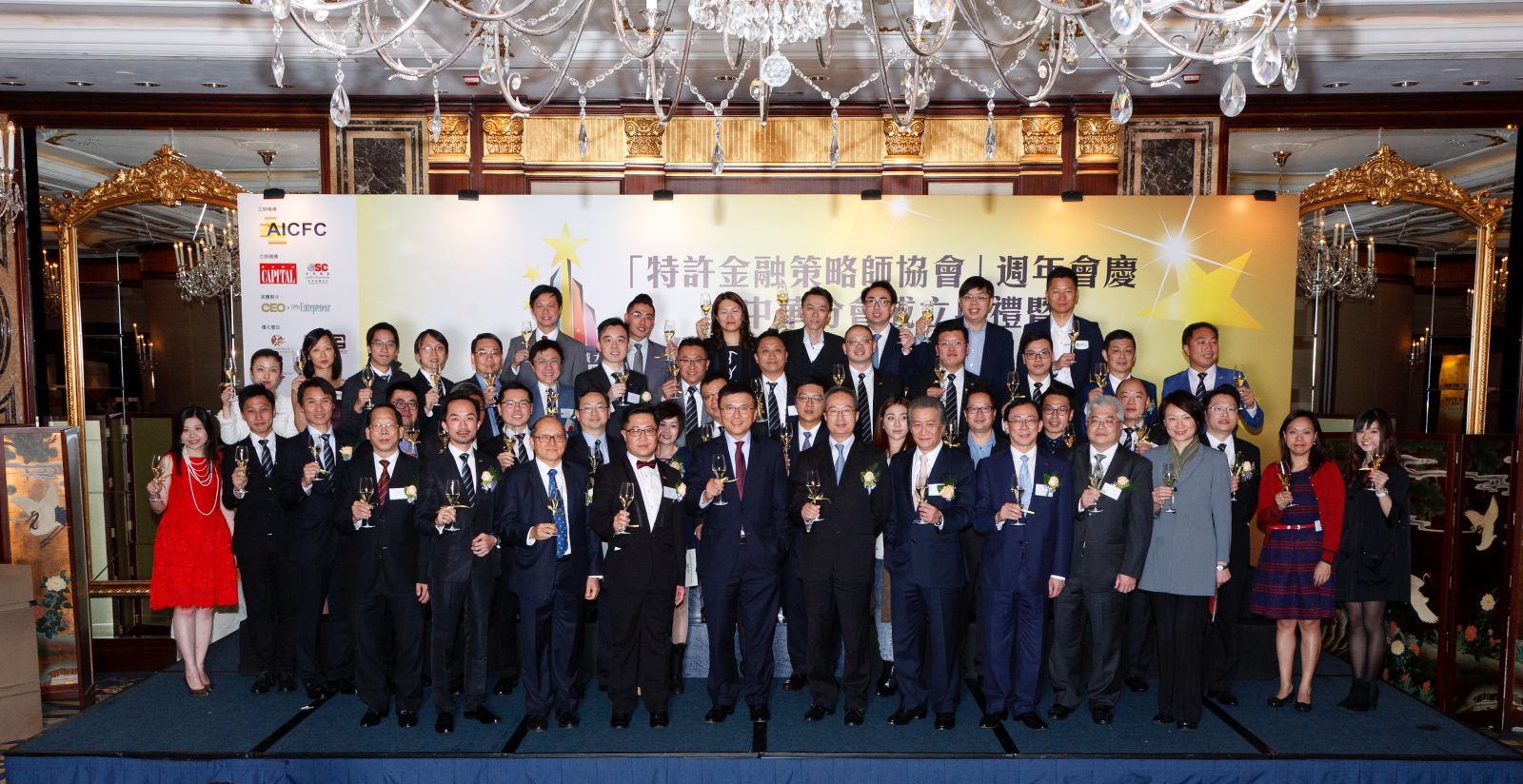 AICFC Inauguration of the Greater China Chapters & Anniversary Ceremony @Island Shangri-la
It is our honor to invite Professor K C Chan GBS, JP, Secretary for Financial Services and the Treasury, The Government of the HKSAR, to be our guest for the captioned ceremony (First row, counting from left five). A total of 380 guests joined to celebrate the ceremony and enjoyed the joy thru the event.
Profile for Mr. Jim Rogers - Keynote Guest
Jim Rogers, a native of Demopolis, Alabama, is an author, financial commentator, adventurer, and successful international investor. He has been frequently featured in Time, The Washington Post, The New York Times, Barron's, Forbes, Fortune, The Wall Street Journal, The Financial Times, The Business Times, The Straits Times. He has also appeared as a regular commentator and columnist in various media and has been a professor at Columbia University.
After attending Yale and Oxford University, Rogers co-founded the Quantum Fund, a global-investment partnership. During the next 10 years, the portfolio gained 4200%, while the S&P rose less than 50%. Rogers then decided to retire – at age 37. Continuing to manage his own portfolio, Rogers kept busy serving as a professor of finance at the Columbia University Graduate School of Business, and, in 1989 and 1990, as the moderator of WCBS's 'The Dreyfus Roundtable' and FNN's 'The Profit Motive with Jim Rogers.
In 1990-1992, Rogers fulfilled his lifelong dream: motorcycling 100,000 miles across six continents, a feat that landed him in the Guinness Book of World Records. As a private investor, he constantly analyzed the countries through which he traveled for investment ideas. He chronicled his one-of-a-kind journey in Investment Biker: On the Road with Jim Rogers.
Jim also embarked on a Millennium Adventure in 1999. He traveled for 3 years and was his 3rd Guinness Record. Passing through 116 countries, he covered more than 245,000 kilometers, which he recounted in his book Adventure Capitalist: The Ultimate Road Trip. His book, Hot Commodities: How Anyone Can Invest Profitably In The World's Best Market, was published in 2004. His recent book A Bull in China describes his experiences in China as well as the changes and opportunities there. His latest book is A Gift to My Children. His latest memoir Street Smarts: Adventures on the Road and in the Markets was published in February 2013.
**AICFC co-organized with Alpha Asia & CAPEX in Hong Kong
Enhancing Investment Returns via "One Belt One Road" Forum and Gala Dinner
Date: 21st October, 2016 (Friday)
Time: 9am to 5 pm – Forum and Luncheon / 7 pm - Ceremony Dinner
Venue: Regal Airport Hotel, Grand Ballroom at 1/F
Speakers: Mr Jim Rogers, Dr Owen Chow and Mr Percy Chan (AICFC) will be invited
**All the attendants are by Invitation only.